Our top-5 travel products…
Our top-picks for branded travel gifts…
With clients coming to us for travel-gift guidance year-on-year, we know what works.
We've put our heads together and hand-picked our team's top-5 essential products that your travelling customers, clients and/or staff will love…
1. Secure & Trackable luggage
Lost or tampered with luggage is every traveller's worst nightmare.
But if you include a branded security lock, trackable QR code luggage tag or a tracking tile (paired to an intuitive app) you'll make an impression with a tech-savvy branded luggage accessory that everyone will appreciate.
3. Ultimate travel pillow
There are lots of travel pillows out there – from basic inflatables to high end structured supports – but this one is by far our tried-and-tested favourite.
A compact, comfortable and multi-functional travel pillow with built-in band & eye shade. Get the rest you deserve on your next trip..
5. Luggage scales
Watch your weight! In a time of draconian airline luggage restrictions, a luggage scale is an essential travel accessory.
2. Power Cables & Powerbanks
Travel is easier when your devices are fully charged. Powerbanks and power cables are always well received and regularly used, so a reliable choice to raise and maintain brand awareness.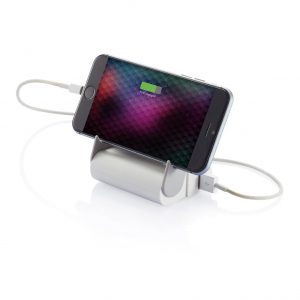 TOP TIP – if taking a powerbank on a flight, make sure and bring it in your hand luggage, as there are restrictions on batteries in checked-luggage.
4. Foldable multi-way travel bag
Both a backpack & a shopper, this clever multi-way bag is one of our personal team favourites – we all have at least one of these each and they get a LOT of use!
A brilliant budget giveaway for travellers.  Endlessly versatile – use it for day trips, carry-ons, shopping, toiletries, shoes, trips to the beach and even laundry… this list goes on!
An extremely cost-effective option considering all of the repeat exposure it facilitates!